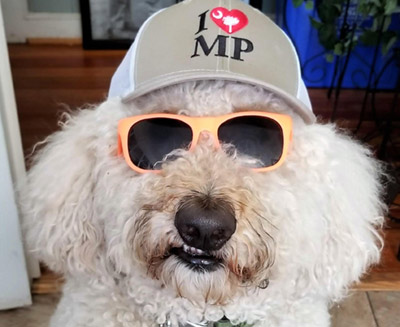 It all started when my Buddy Bill answered his phone. Whoever was calling started rambling about a pet-and-owner look-alike contest. They said something about Saltwater Cowboys, a restaurant on Shem Creek. When he got off the phone, he asked me what I was doing Saturday around 4 p.m. Right then and there, I knew something was up. I told him I was running with my pack friends Madison and Trinity. But when you hang around someone a lot, you can tell by the tone of their voice how excited they are. I could tell my buddy Bill was excited. He really wanted to go to this Tito's Vodka-sponsored pet tricks and pet owners look-alike contest. Well, I did what any good friend would do: I told my pack friends that I was going with my buddy Bill next Saturday. Madison and Trinity were a little bummed, but they understood.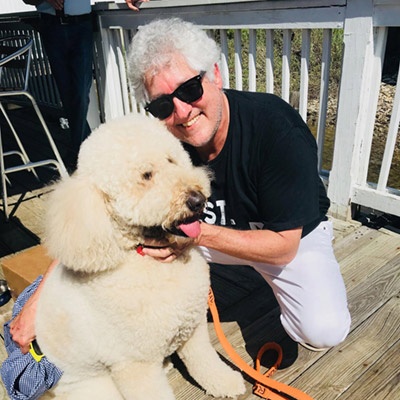 As the big day approached, I noticed Bill hadn't gotten his hair cut and he hadn't shaved. Even worse, he was wearing one of his favorite "Best Dog Dad Ever" T-shirts. Now, mind you, I don't have a challenge with his T-shirt, but I can tell you there have been times that I didn't think he was necessarily the best dog dad ever. Just saying.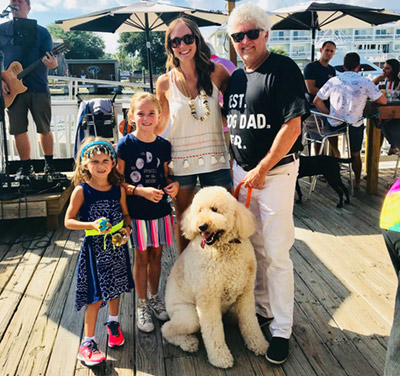 As we drove up to Saltwater Cowboys, we jumped out of the mag-mobile. The first person he saw was this guy Wade Boals. I hadn't seen him before, but they seemed to know one another. Wade ask my Buddy if we were going to enter the look-alike contest. When Bill said yes, you could see a big grin on Wade's face.
We started walking to the back of Saltwater Cowboys, where the outdoor bars and deck are located. Everything was right on Shem Creek. They had a band for me and my four-legged friends, there were Tito's Vodka signs and people were having a good time and drinking their favorite beverages. There were plenty of water bowls around for me and my canine friends. It was a great time for all…
As soon as we made our way to the creek side of Saltwater Cowboys, Bill started talking to another guy. I think his name was Luis Rodriquez. It had been a while since I had hung out with my buddy Bill. I had forgotten how much he can chat it up. Sometimes I think he likes two-legged friends more than his four-legged friends. Actually, he ran into a lot of two-legged friends, like Kay Hyman from the Charleston Animal Society. She was nice. I found out later that Charleston Animal Society found homes for a lot of my four-legged friends who Kay brought with her. After I found out, I knew she was more than nice; she was a saint in my book.
As my buddy Bill and I made our way through the crowd, I met a lot of nice four-legged and two-legged friends. Just about everyone thought we had a good chance of winning the look-alike contest. Rob Fowler, who I'd watched doing the weather on channel 2, was there. Bill doesn't think I watch the television, but I do. Erin Kienzle, who I'd met several times with Tom Crawford on Lowcountry Live, was also there. They both were judges for the look-alike contest.
Kim from the Charleston Animal Society was the master of ceremonies. When Kay called our names, my buddy Bill and I walked in front of the judges. Now I know there are some similarities between my buddy and me. We both have big noises and, of course, our curly white hair is the obvious similarity, but we're not brothers. I promise you when we got up there, you would have thought the only thing different between my buddy Bill and me was him having just two legs. It was a fun time.
When Kay called us back and announced that we won, the crowed really enjoyed it. Kay give us a $100 gift card to Saltwater Cowboys. We handed it right back to Kay to donate to the Charleston Animal Society. Also, Joe Leyh, the owner of Canine Topper, gave us jar of Canine Topper as one of our prizes. We took it home. My pack and I loved it.
I have to admit my buddy Bill can be adventurous. I can hardly wait till he gets another phone call that leads to the next adventure. I'm thinking about printing a T-shirt that says, "I've Got the Best Dog Dad Ever."
By Charlie Macchio, the goldendoodle
Mount Pleasant Pets says thank for helping area homeless pets.