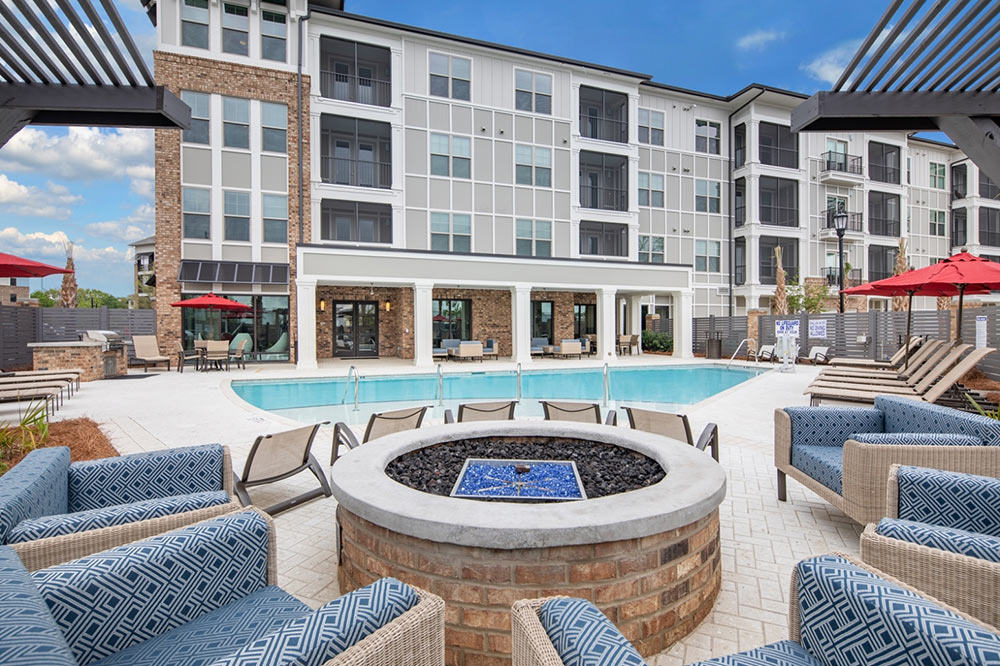 Pets are an integral part of many families, which is why it is so important to find residential communities that embrace our furry friends, like Mount Pleasant's 1201 Midtown.
A MAA (Mid-America Apartments) Community, 1201 Midtown offers flexible lease terms from three to 14 months. You can choose from one, two and three-bedroom luxury apartments, with styles ranging from classic Southern charm to a new modern vibe. The apartment homes feature desirable touches, like gourmet kitchens with quartz countertops and stainless steel appliances. They even offer two loft-style three-bedroom homes.
While residents might appreciate the designer kitchens, Fido will flip for the two pet parks and pet spa station. There are 11 MAA communities throughout the Charleston area, including three in Mount Pleasant, and 1201 Midtown's property manager Dianne Lang said that as far as she is aware, they are the only property management company in Charleston with no breed or weight restrictions for dogs.
"No breed or weight restrictions is what sets us apart from other communities," noted Lang. "We welcome them all." As though to illustrate her point, as we were chatting, two great Danes walked past the leasing office.
The pet parks at 1201 Midtown also provide open spaces and agility equipment where dog owners can take their pooches to stretch their legs and exercise. "It's an area where they can run free," remarked Lang. Nearby walking trails present another opportunity for outside activity, a definite bonus when living in an apartment community.
1201 Midtown's pet spa provides a tub setup for washing and blow-drying pets and offers a more convenient option to bathing your pet in your apartment — not to mention a great alternative to paying for professional grooming services so often.
1201 Midtown's amenities and activities are geared toward dog owners as well. Leashed dogs are welcome in open spaces throughout the complex, such as the clubhouse, which features a game room with shuffleboard and billiards and a big-screen TV, where residents can watch the games with their best friend in tow. There are even special events, including a pet costume contest held each October.
Pre-COVID-19, 1201 Midtown hosted a dog show in the style of the renowned Westminster Kennel Club, which they hope to revive once again when public health conditions permit. 1201 Midtown also partnered with the Charleston Animal Society for a successful pet adoption event.
Lang said she and her fellow team members love engaging with their residents as well as their furry friends, even mentioning how some pets make a beeline for the office because they know a treat often awaits them.
Pet fees at 1201 Midtown and other MAA communities are similar to those standard for the area. The cost is $400 for the first pet and $200 for a second pet, plus a $15 monthly charge per pet per month — a modest price for a happy family.
For more information on 1201 Midtown, visit 1201midtown.com, or call 843-606-4417 to schedule a tour.
By Colin McCandless