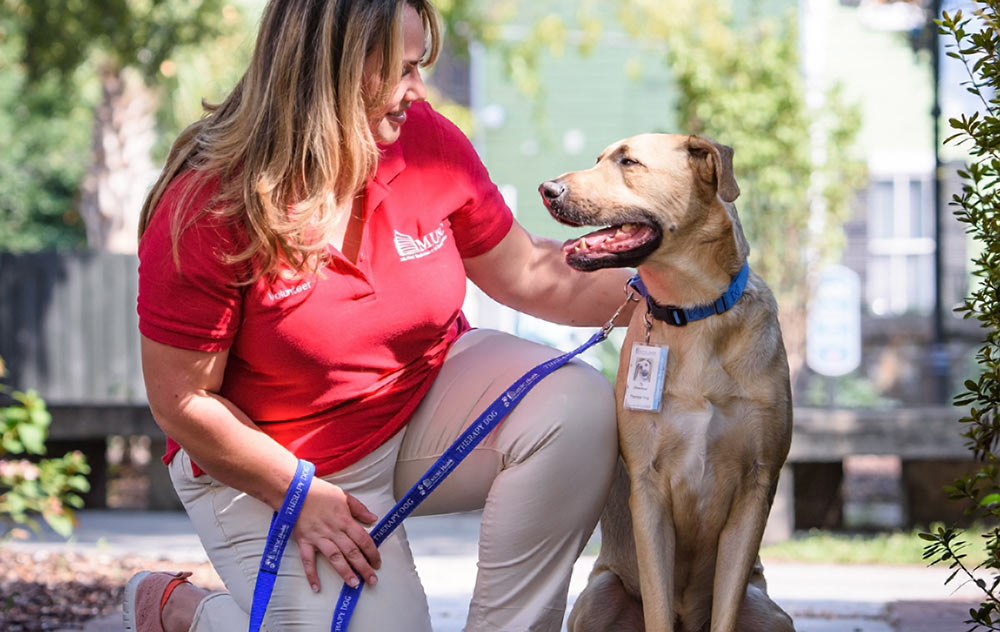 "I thought the driver saw me," was what I kept telling the policeman. It was half past seven on a cool October morning. There was no trace of humidity in the air, so I pitched my car keys onto the kitchen counter and carried my bicycle down the porch steps. My commute is exactly 1.2 miles from our front door to the revolving doors of the Medical University of South Carolina. Cruising to work on my teal-colored bicycle to my new job — the best job a retired HR professional could ever dream of having — seemed like a good idea on a beautiful fall day.
Pedaling along Ashley Avenue, thoughts of the day ahead danced around my mind. As I crossed the intersection, I nodded a friendly hello to the driver whose car idled at the corner waiting to turn. Apparently, he never saw me. When my bike glided in front of his path, his foot simultaneously applied pressure on the gas pedal, propelling me into the air.
I can still visualize and re-play my mini-flight through the street. Accidents really do occur in slow motion. Why? Because our estimates of time depend on how much we remember, and more memories are laid down in an emergency. I still chuckle to myself remembering how, in mid-air, I tried to pedal faster, thinking I could coast down instead of crashing down onto the ground.
When the EMS team arrived, I was still on the ground. I never lost consciousness, and I can recall oh-so-well the stench rising from the manhole my face was resting on. During transport in the ambulance, I was fixated on my husband's facial expressions, waiting for a sign of either relief or additional concern as he chatted with the medical team.
New to the department and the organization, I was a stranger to the care team members in the emergency department. The staff was kind, informative and reassuring. After a thorough exam, I waited for the x-ray results.
The waiting — dealing with the unknown — was the most difficult part of this entire ordeal. My imagination ran rampant, which quickly awakened that monster we call fear. As the minutes passed, I was engaged in a private battle, fighting the urge to cry while I listened to my husband make quiet small talk with my new coworkers, who raced to the ED after I called to say I would be a little late.
Overwhelmed with anxiety, I was ready to surrender to the cascade of tears, when I heard a knock on the door. As it opened, I saw a familiar face in a volunteer uniform, along with a very happy apricot-colored goldendoodle named Ragamuffin. #gamechanger
THE ROLE OF A THERAPY DOG
Many people associate therapy dogs with bedside visitation in hospitals, nursing homes and assisted living facilities. This is true and will always be the foundation to the practices of our program. Visitation is key to patients and family members as well as medical personnel.
Medical professionals now realize Animal Assisted Therapy/Intervention can be used as a complementary form of therapy that involves animals as a form of treatment. We are learning every day how to incorporate these animals into the patient's healing process.
It's been three years since my bicycle encounter on Ashley Avenue. And for three years, I purposely continue to carry that October morning with me as the MUSC Therapy Animal Coordinator. I feel "chosen" to have experienced and survived this nightmare because it's been the pedaling force — pun intended — behind why I work so hard every day fulfilling therapy animal requests.
I am blessed beyond measure to have only memories of those bumps, bruises and road rash burns from the accident. For me, this is a personal "connect-to-purpose" with our hospitalized patients. Oftentimes, I see my husband and coworkers in the faces of family members and friends of a patient when I am bringing one of my doodles to visit. There's a piece of me I can honestly and sincerely say empathizes with those I serve.
Accidents and illnesses can disrupt the fabrics of our lives. People are forced into unfamiliar and stressful situations. Certified therapy dogs not only reduce stress, depression and blood pressure, they improve self-esteem and increase physical mobility. Research shows us that goal-oriented and structured interventions intentionally incorporated with therapy dogs for the sole purpose of therapeutic gains are consistently proving enhanced clinical outcomes.
DUTIES AND RESPONSIBILITIES
MUSC has a robust Animal Assisted Therapy Program, one that prides itself on the hospital's mission statement: "changing what's possible in health care." I like to think we're contributing with an innovative approach, one paw at a time. When partnered with physicians, therapists and nurses, canine intervention assists our patients to reach their health goals, remain positive and motivated.
These therapy dogs specialize in tail-wagging happiness all across the Lowcountry. In addition to the four major hospitals downtown, therapy dogs are assigned to more than seven outpatient clinics, recently including a Pediatric Specialty Clinic located on North Highway 17 in Mount Pleasant.
On any given day, pediatric patients may be given the option of having a therapy pup participate in their scheduled appointment. Pediatricians find some of their patients respond well during examinations, consultations, and/or treatments with a little paw to hold, coat to brush or wagging tail to watch.
Therapy dog teams at MUSC are welcomed throughout our facilities and have made a significant impact in the lives of thousands over the years. With more than 81 active teams in this program, therapy dogs are available for, but not limited to, the following:
spend time with care team members as well as non-clinical staff members throughout the hospital — Administration, Finance, Chaplains and Facilities/Environmental Services need puppy love too!
share tail-wagging happiness with medical students cramming for exams
remain with a patient in pre-op before surgery
sit with family members in the surgical waiting rooms
provide comfort for the families and medical teams during end-of-life honor walks
partner with physical, recreational and occupational therapists for rehab appointments
be bedside in post-op if needed to lower blood pressure
As the wife of a retired Army Infantry Officer, the concept of community engagement was instilled in me throughout his career. Supporting local areas who can benefit from the presence of therapy dogs is important.
I want to attract, promote and most of all educate all of Charleston County with the limitless abilities these incredible animals possess. I am proud to say we have done that at the Charleston International Airport, Local Pet Expos and our annual Blessing of the Therapy Animals Recognition Ceremony, to name a few.
THERAPY DOG QUALIFICATIONS
I am often asked "I'd like to volunteer in your program — how can my dog become a therapy dog?" A certified therapy dog must be a friendly dog. Breed is not limited to any specific type. Basic commands are essential — and therapy dogs should have already reached adulthood. Most organizations will not test puppies under 1 year old.
If your dog is well-socialized, calm when meeting other people, not skittish when approached by shopping carts, roller blades or skateboards, in excellent health, has the ability to ignore other dogs and knows when to "leave it" — you could possibly have a wonderful therapy dog in your home, ready to volunteer.
A dog must be registered through a nationally-recognized therapy organization. Once your dog has been approved, you are free to seek organizations that are appealing to you. Here at MUSC, we have onboarding procedures which involve an interview process, orientation, training and then observation.
Many pet parents seek formal training from a variety of sources. Some do it to hone in on areas of concern, such as barking and pulling, and others pursue titles like Good Canine Citizen Awards. I support any and all methods that you believe will strengthen your dog's skills and abilities.
The year before the pandemic, 92 teams provided 10,619 bedside visits to our patients. That equates to 5,565 hours of pawsome memories! Now that we are back, I love to walk the halls, hoping to catch a glimpse of a volunteer team coming from or heading to a patient's room. The human is always wearing a smile, and the canine therapist's tail is swishing back and forth a hundred times a minute. That's the sight I long to see because it reaffirms this team is loving their job. The wagging tail symbolizes the dog feeling purposeful, which creates this electric energy that seems to skyrocket up the leash to the human hand on the other end.
It's almost an indescribable experience to have helped someone during one of their darkest moments. There's something very special about giving of your time and talents to aid another human being. To be able to do that with your favorite furry friend takes it to an entirely new level.