The surgery went well, your prognosis is excellent, but at the moment, recuperating in a hospital room is probably one of the last places you want to be. You're grateful for the continuous care, yet you long to be home with your family – which for many – includes that furry four legged member as well.
The smile on your face lights up the entire hospital room when the knock on your door reveals a therapy animal coming to pay you a visit.
Therapy Animals Are Healing Companions
If you're an animal lover, you already know just being in the vicinity of one can alter the way you view your current state. So it's no wonder or surprise to know a therapy animal can bring positive change to people battling health conditions such as cancer, post-traumatic stress, dementia or debilitating physical challenges after a stroke.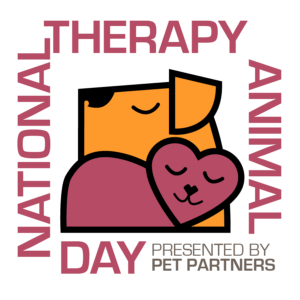 Since 1977 Pet Partners (a national therapy animal organization) has demonstrated and promoted the benefits of animal assisted intervention. Interacting with a pet can help both physical and mental issues. Certified therapy animals are able to reduce blood pressure, improve cardiovascular health and eradicate loneliness. Their presence has the ability to release endorphins triggering a calming effect that decreases stress and improves your overall psychological state.
Understanding the significant impact therapy animals have on so many, Pet Partners created National Therapy Animal Day celebrated every year on April 30th.
They believed it was important to recognize and highlight these exceptional pets (and their human companions) who bring such comfort to those in need.
According to Pet Partners – National Therapy Animal Day is a day to –
recognize and honor therapy animals
raise awareness and educate the public about the role therapy animals play in enhancing the health and well-being of humans
honor the thousands of dedicated handlers who volunteer their time and compassion during visits.
April 30, 2018 a few MUSC Therapy Dog teams took a group photo with the Honorable Mayor John Tecklenburg on the steps of City Hall after he honored our four legged therapists.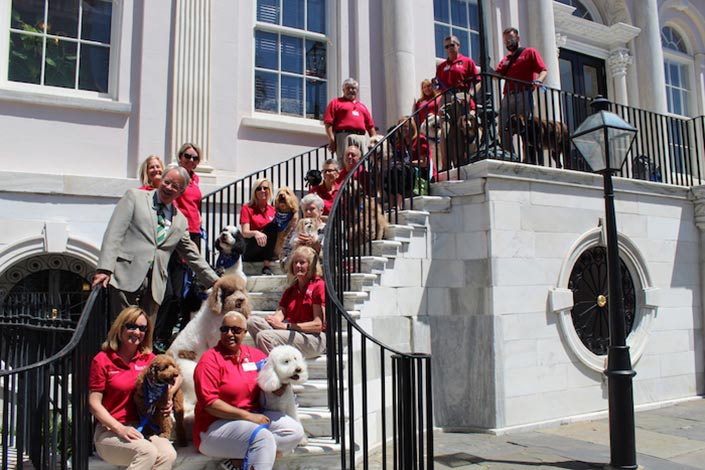 The Lowcountry is fortunate to have therapy animal programs in many hospitals, assisted living facilities, nursing homes, dental offices, as well as rehabilitation centers, just to name a few.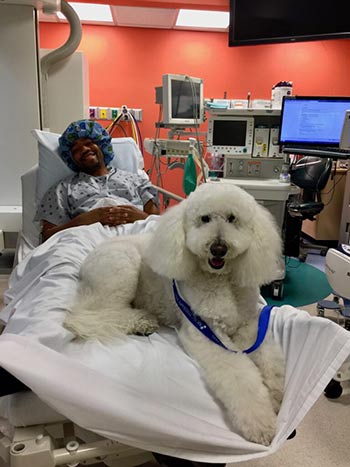 As the Therapy Dog Coordinator for the Medical University of South Carolina, I tell people all the time – this job has me "living my best life." Our program has increased from 32 to 98 teams over the past two years. I attribute this robust growth to the –
dedicated volunteers who visit patients, family members and medical personnel each and every week.
overwhelming support from our hospital administration
innovative methods the clinicians use to incorporate animal assisted intervention in their practices.
MUSC Therapy Dogs are extremely busy both on and off the Peninsula. There are more than 40 teams alone providing tail wagging happiness in the new Shawn Jenkins Children's Hospital and Pearl Tourville Women's Pavilion as well as the Ashley River Tower Hospital.
Approx. four dozen pups prance through the halls and into units of the University (Main) Hospital.
Floppy ears and furry paws can also be sighted at –
Hollings Cancer Center
Institute of Psychiatry
various clinics such as, Physical and Occupational Rehabilitation; Special Needs Young Adult Dental; Cranial Facial and Sickle Cell Anemia.
Throughout the Charleston area dozens of teams provide canine comfort. If you enter any of our outlining clinics and facilities, like –
R. Keith Summey Medical Pavilion – West Ashley
Health East Cooper Medical Pavilion – Mount Pleasant
Children's Health Therapy Center – North Charleston
– you no doubt have seen a therapy dog or two!
In Addition to Visitation
We now offer Animal Assisted Intervention (AAI) which is a "goal-oriented form of patient care structured to help with a particular treatment plan." These tailored roles have specific job descriptions to aid in marrying the pawfect patient and therapy dog pair. Some areas require non-shedding dogs while others are looking for dogs who retrieve objects for physical therapy sessions. Dogs able to perform tricks are often requested in areas concentrating on group activities for mental health.
We also provide specialty teams. Dog Without Orders (a play on words from the phrase "doctors without borders") spend their two hour shifts affording medical personnel a few minutes to cuddle with the therapy dogs. These teams frequent the emergency room staff areas where clinicians study charts or the intensive care units that require specialty skillednurses to remain by a patient's bedside. Surgical lounges allow the doctors to release and refuel sitting and petting a pup after a lengthy procedure. Radiologists, technicians, University professors and medical students enjoy their daily "fix" from a visit.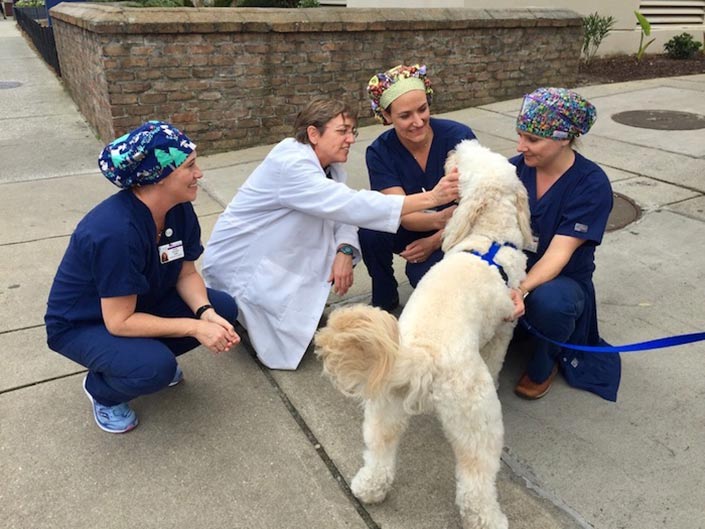 Most recently we've been asked by family members to participate in "Honor Walk" ceremonies. This sacred event commemorates a patient prior to organ donation. Medical personnel, and now therapy dogs line the hallway as the patient is transported (escorted by family members and surgical staff) to the operating room prior to organ procurement.
We make the therapy dogs available in the waiting room areas for family and friends before the ceremony. If asked, one team will stand bedside with the immediate family before the ceremony begins.
Having therapy dogs present for family members with dogs of their own, brings additional comfort and contributes with the acceptance of the moment.
Joining a Pet Therapy Program
Becoming a Pet Therapy Volunteer starts with knowing your dog is –
at least a year old
social with other animals
obedient
enjoys being touched and hugged by strangers
current with his/her vaccinations
Some dogs obtain additional training before pursuing their therapy dog certification. Overall this can be helpful, but not required.
There are many nationally recognized therapy animal organizations to choose from. MUSC currently accepts five. The majority of our teams are certified / registered through –
Alliance of Therapy Dogs
Pet Partners
The initial process is completed online, and then individual evaluations and observations are coordinated with you.
Once you and your dog have successfully completed the process, you are legally ready to start volunteering.
Every facility has its own admittance criteria. At MUSC we start with the application process, interview, orientation and then Pack Leader training. My objective is to ensure you have the necessary tools, knowledge and understanding of our policies and procedures for a phenomenal first day as a Volunteer.
For more information –
MUSC Pet Therapy Program: Cathy C. Bennett [email protected]
Alliance of Therapy Dogs
Pet Partners
Celebrate National Therapy Animal Day
To all those therapy animal pet parents, I thank you for all that you do for so many with your incredible therapy angels.
Please give them extra hugs and tasty treats so they know they are extra special for the work that they do.
As for my two Goldendoodle Therapy Doods Jaxson & Harley – we will continue our tradition by riding up to the Starbucks window for a good old cup of Puppuccino – make that two please!