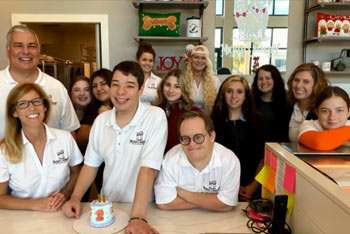 Michael's Barkery Pet Spa and Boutique
Best Pet Website
Nominating Category:
Best Pet-Friendly Business
Karen Patrohay, Owner
---
How did your business get started?
Michael's Barkery was inspired and started because of our son, Michael, who has a cognitive disability. In high school, all seniors were expected to do a job internship program, and Michael was no exception. Because of his love for his dog, Sunshine, a plan was put together for Michael to make and sell dog treats. Everyone loved them, and Michael loved making all the dogs and owners happy. There were not many options for Michael or others like him after high school, so we decided to start a unique dog spa and boutique where we provide employment opportunities to adults with cognitive disabilities while supporting animal lovers.
What is your most popular product?
Whether you are looking to pamper your pup with a spa grooming day, the perfect pet accessory or homemade specialty treats and cakes, we are your one-stop shop for you and your four-legged family members.
What are some challenges that you've overcome?
We have been open now for two years. We have 20 employees, of which 10 are teammates with cognitive disabilities. We opened our doors in November 2019, just a few months before COVID-19 hit. To say the least, that was not great timing. We were fortunate that grooming and pet food and supplies were essential, so we were able to remain open. We put into place curbside drop-off and pick-up, as well as several cleaning and safety protocols. As we had hoped, the community stayed with us and helped us to grow despite this difficult time.
Describe the atmosphere and services at Michael's Barkery. What do you want customers to take away from your business?
We strive to have the friendliest and most knowledgeable staff. We look for people who share our values and mission. Our groomers are second to none. They are passionate about animals' health and well-being. They are very experienced and really care about each dog that passes through our doors.
We also strive to make everyone's shopping experience in our retail area special. The look and feel of our store is very welcoming, with friendly staff members who love to get to know our customers and are always happy to provide help. We carry grooming supplies, collars, leashes, pet apparel, bowls, toys and pet-themed gifts.
In our state-of-the-art kitchen, we make a variety of pet treats and cakes with high quality, nutrient rich ingredients. One of our most popular items is our pup-cakes. We love to create custom one-of-a-kind treats and cakes for businesses and events to make every occasion truly unique. We have our treats in hotels, boutiques and doggy day care facilities. We have also made gender reveal cakes and engagement announcement packages. We do several fun events in our store, as well as providing yappy hour fun at apartment complexes.
To learn more, visit michaelsbarkery.com, or call 843-471-1199.