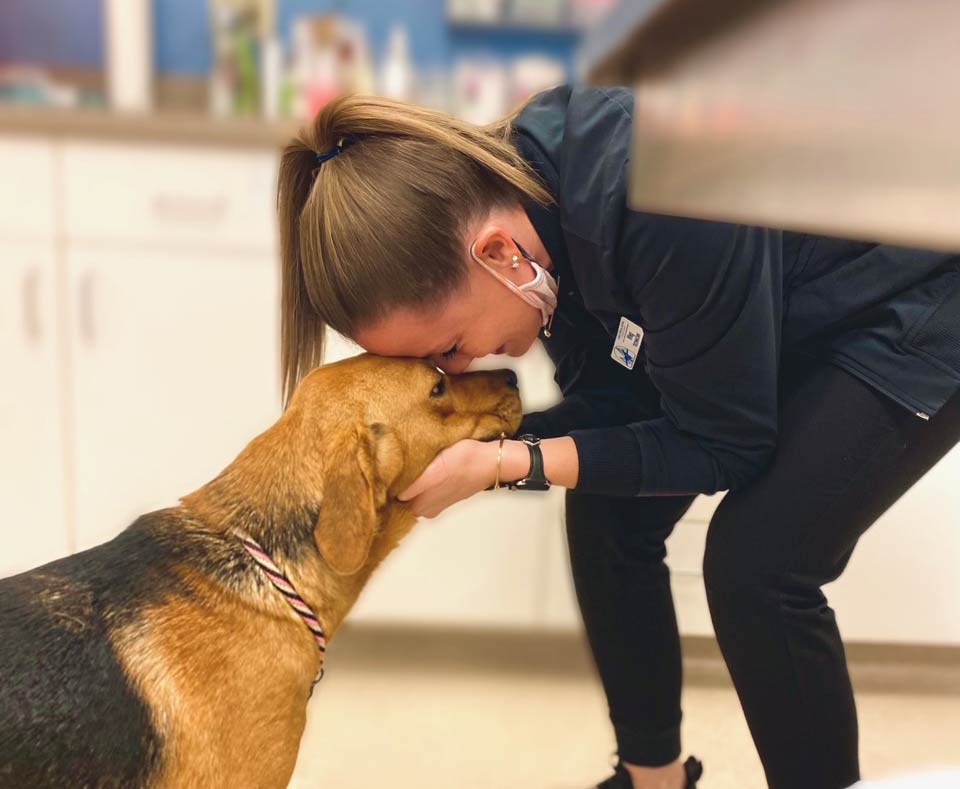 The Animal Medical Center of Mount Pleasant and Best Friends Boarding have been serving Charleston since 1995. They currently have seven veterinarians on staff and employ over 30 highly-skilled pet care providers. They pride themselves on providing extraordinary medical care and superior customer service. Their dedicated service has elevated veterinary care in the area and given pet owners access to the best care for their beloved pets.
Dr. Steven Epstein was born and raised in Mount Pleasant. He was a teenager when he accepted his first position at the Animal Medical Center, which he now owns. Dr. Epstein started as a veterinary technician's assistant, worked his way up to kennel technician, became a certified veterinary technician, then a Doctor of Veterinary Medicine and is now the proud owner of the practice where he got his start. "This hospital is home for me and is my pride and joy," he beamed.
Their newest vet, Dr. Tess Lawhon, grew up on the Isle of Palms and also started at the Animal Medical Center as a technician's assistant. Like Dr. Epstein, Dr. Lawhon went on to become a certified veterinary technician and is now a veterinarian at the practice. The opportunity to work together with Dr. Epstein once again is the culmination of grueling studies, hard work and unwavering dedication to the veterinary field.
The Animal Medical Center offers personalized care and the most innovative diagnostic and treatment tools available, including CT, digital radiology, ultrasound, echocardiograms, radioactive iodine therapy, laser therapy, laser surgery and in-house lab work for same-day results. They also maintain relationships with internal medicine, orthopedic and radiology specialists to provide the most complete medical care available.
Recognizing that despite their extraordinary care, standards pets don't always enjoy visiting the veterinarian, the Animal Medical Care Center is a Fear Free® veterinary practice. To achieve Fear Free accreditation, members of the team undergo rigorous training and testing. They develop a wide range of skills that reduce the stress levels of dogs and cats during veterinary visits. They practice positive-based handling techniques, learn ways to alleviate fear and anxiety during examinations and treatments and master techniques that create an overall more pleasant experience for pets, no matter their age, health, or comfort level. Because fear and anxiety can jeopardize patient care, Fear Free practices see improved outcomes for their patients and their veterinary team alike, which creates an atmosphere of compassion and collaboration that even pet parents can feel.
Voted 2022 Best Veterinarian in Mount Pleasant, the Animal Medical Center believes that companion animals are family. They strive to provide a quality of medicine that is second to none. By staying on top of the latest in veterinary medicine, they ensure the best possible result during every visit. They understand that pets enrich their family's lives and are dedicated to enriching the lives of pets by offering them the most advanced, exceptional, and dedicated care.
To learn more, visit amcmp.com or call 843-881-5858.
By Isabel Alvarez Arata