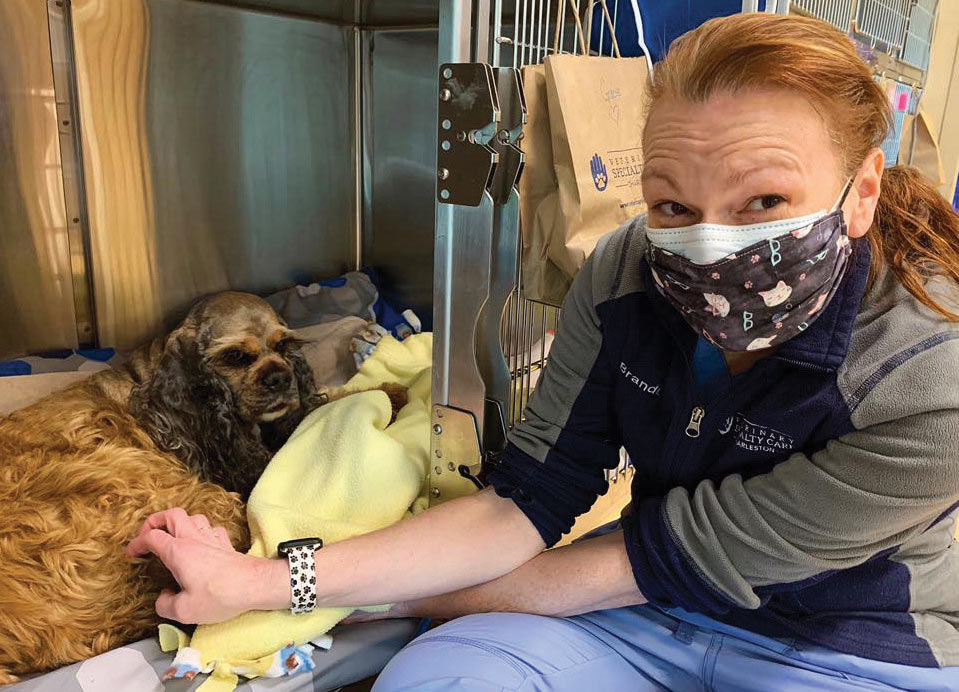 While COVID-19 has disrupted lives and businesses across the country since March, Veterinary Specialty Care, the only locally and privately owned 24-hour emergency and specialty veterinary hospital in the Lowcountry, has remained open to help pets, strays and injured wildlife. Services include emergency care, internal medicine and surgery. For families on vacation in the area or seeking specialty and emergency services, this accessibility is an invaluable service.
According to Outreach Coordinator and Client Advocate Natalie Garber: "Because the CDC has identified veterinary care as an essential business, we have remained available for the community, including pets and pet owners, in their time of need. As always, we are open and ready to help 24 hours a day, 365 days a year. When the pandemic started, we postponed elective surgeries and procedures, but we have been able to start scheduling referral cases again. Urgent, life-threatening cases have always been seen immediately."
Both clinic locations — Mount Pleasant and Summerville — have adjusted their protocols to meet CDC guidelines. Employees now wear masks and gloves at all times. Clients are met curbside after being registered online and calling to announce their arrival. Only healthy family members are asked to transport their pets to the clinic. Families no longer enter the building, except for specific circumstances, such as euthanizing a beloved pet. While visitation with hospitalized pets is not possible, check-up phone calls are welcome and some Skype or Facetime may be available with veterinary approval. Unless injured, strays and wildlife are to be taken to appropriate shelters and rehabilitation sites. All pets are screened for COVID-19 so extra precautions can be taken, if necessary.
Pet owners often wonder if their family pets might be transmitters. At one point, it seemed that Winston, a pug who went viral in the media, tested positive for the virus. Since he slept between two people at night who had tested positive, speculations arose.
For more information on Veterinary Specialty Care, visit veterinaryspecialtycare.com, or call 843-216-7554.
By Janet E. Perrigo