I do not consider my dog a pet – my dog is family."
While the author remains unknown, this quote continues to gain momentum and popularity through social media threads, Pinterest pins and one-of a-kind Etsy creations.
The truth of the matter is, families all across the country relate to this sentence.
Household pets now have a seat at the table. Literally!
Pet ownership in the United States has increased over the past 30 years. According to the National Pet Owners Survey, 68 percent of U.S. households (or the equivalent of approximately 85 million families) own a pet, based on the organization's 2017–2018 survey conducted by the American Pet Products Association.
LIVING TOGETHER
Pets are part of the family. They are woven into our lives and treated with practically the same respect and care one would give other humans in that same family.
Presently, more than 60 million families have a dog in their home. Many of these families believe in their hearts that their dog or dogs are more than just pets. If you ask them, they will tell you their dog is like a member of the family.
Meet three Mount Pleasant families – who for various reasons – not only believe their dog is family but live every word.
WILL AND SUZETTE HAYNIE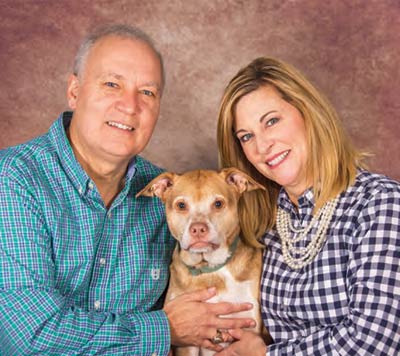 The Mayor of Mount Pleasant, Will Haynie, and his wife, Suzette, a teacher at Jennie Moore Elementary School, adore their 5-year-old mixed-breed dog named Rusty. He was a scared, tiny, little puppy, not quite 3 months old when they brought him home. Lady, their 100-pound German shepherd, was huge in comparison and could be quite intimidating. Rusty might have been small, but he was not afraid, and, shortly after his arrival, they took to one another and became the best of friends.
Dogs are masters at coercing the human elements in their lives to conform to their rituals. Rusty, for instance, has replaced the need for an alarm clock in the Haynie home. Every morning he jumps on the bed, smothering both Will and Suzette with affection whether they're ready to wake up or not.
Many families make the decision to bring a dog into the home because of a significant lifestyle change. Will and Suzette chose marriage and relocation. They associate Rusty as a symbol of the happiness they found in each other and in their new life together.
"He's the happiest and most enthusiastic dog we have ever had," said Will, adding that he shows them how to be happy and carefree.
They believed they were raising a docile, easy-going rescue, but Rusty surprised them. He has border-collie like drive and intelligence. Energetic, highly intelligent and cunning at times, Rusty requires regular activities and exercise. Will and Suzette are grateful that he enjoys the beach.
Lady crossed the rainbow bridge in July, and, as the family continues to grieve the loss of her presence after 11 years, Rusty makes sure he reminds them that they are his entire world. Sometimes he just sits in front of them and holds conversation through sounds, looks and paw moves. He shakes and wags his whole body whenever he sees them. Coming home to Rusty makes them feel like the most important people in the world. He completes their family. He is family.
JIM AND MELISSA KUBU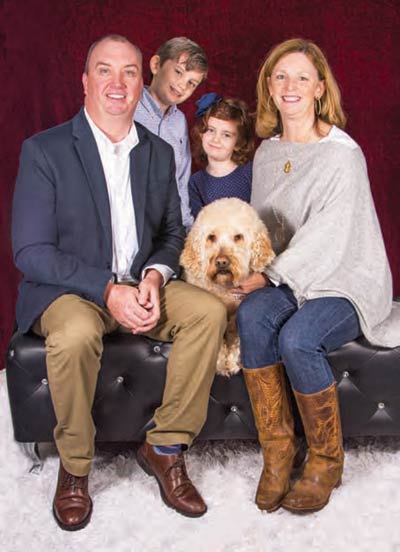 Jim is a field examiner for the Department of Veterans Affairs. He serves our veterans by ensuring they receive the benefits they have so greatly earned and richly deserve. Melissa is a program coordinator in the Volunteer Services Department for the Medical University of South Carolina. She coordinates volunteers for the Children's and Women's Hospital. No stranger to volunteering, Melissa has spent a great deal of her life serving others and giving back to her community by working with nonprofits and service clubs.
When you ask either of them about their family, they both smile and are happy to whip out their smart phones, flip through their photo gallery and show you pictures of Jamison, 9, Olivia, 6, and Hank, their 9-year-old goldendoodle rescue.
Hank has been with Jim and Melissa since he was a puppy. Extended family members and close acquaintances know him as "Hanky Doodle Dandy."
Hank entered the Kubu home with impeccable timing. Struggling with the recent loss of Porter, their 9-year-old yellow Lab, days were difficult to navigate without that special dog in their lives. Close friends rescued Hank and were desperately trying to find a forever home for the adorable puppy. The pain of losing Porter played over and over in both their minds, and they were reluctant about opening up their hearts again.
After many days and much deliberation, they concluded this puppy deserved to be loved, and they had oodles of doodle love for him. Hank had found his forever home.
Jamison was a year old, Olivia came several years later and Hank fell right in line as one of the kids. Whenever Jim decides to wrestle with the kids, Hank is quick to jump in on some of the action. The same applies to food. A snack staple in their home is peanut-butter-filled pretzel nuggets. Hank has a fetish for them, as do Jamison and Olivia. When he hears the container, he comes running right along with them. They dole out PBP treats to all three!
Given Hank's original upbringing, Jim and Melissa have had to make adjustments to accommodate him. Before his arrival, Hank spent most of his first year of life chained to a tree outside, even when it was freezing cold. It required a great deal of love, patience and time for him to learn that he was part of the family. Hank still is a bit of a flight risk, so a set of eyes are on him at all times. He loves the beach, and racing up and down the coastline seems to bring him his greatest joy.
According to Melissa, "Hank has brought a lot of happiness into our lives. He's an incredible addition to our family."
Both children look at Hank as their brother; he is mentioned in their nightly prayers. Having him in the family has helped teach the children about responsibilities, especially those connected with caring for a pet.
They are grateful for his unconditional love. He is family.
DEAN AND CAROLINE DELONGCHAMPS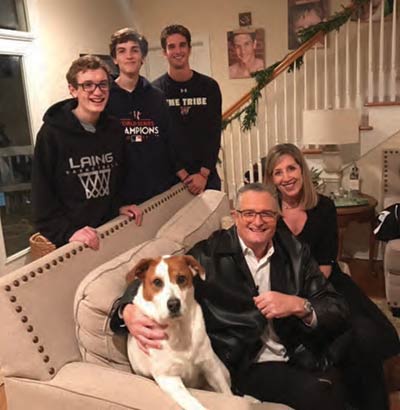 Dean, whom many of you know as Dean Stephens, anchorman of our local ABC Channel 4 station – is also a husband, father of three and best friend to Bella, a 7-year-old rescue.
Bella's mother was rescued while she was pregnant. Still grieving from the loss of a dog, the family had no plans for another. All of that changed when they met little Bella in front of a local Petco one Saturday. There was an immediate love connection, and Bella now had a family to call her own.
Dogs have a tendency to not only take up residence in our heart but also to fill our mind with memories as vivid as the day they occurred. One favorite memory shared by the entire DeLongchamps family involves a summer road trip. The car was packed, and they were ready to go, yet no one could find Bella. As the entire family searched through the house, Bella was sitting in the back of the van looking out of the window at them!
Dogs give us great joy, but they also bring tremendous comfort to our lives. Caroline, who works as the manager of patient- and family-centered care at the Medical University of South Carolina, knows this all too well.
Following her father's unexpected death, Bella became her shadow. As if she knew something was wrong, Bella never left Caroline's side.
"She'd curl up next to me in his big leather chair and for months she helped me absorb the pain of my overwhelming grief," said Caroline.
Dean and Caroline have opposite schedules. Bella knows this and has created her own timeline to accommodate them both. She will start her evenings off in bed with Caroline, but, as soon as Dean gets home at midnight, she jumps off their bed and curls up in her own. When Caroline leaves in the morning, Bella promptly returns to their bed and resumes her rightful place next to a sleeping Dean.
With three sons – Jack, 21, Charlie, 16 and Sam, 14, Bella has become the center of everyone's universe. She arrived in their lives while they were experiencing multiple life changes.
"We rescued her, but she rescued us right back," said Dean.
Bella showers her family with puppy love 24/7 – and it is reciprocated. She has a bed in every room, is never home alone more than a few hours and has her family happily adjusted to the enormous amount of dog hair in their home, cars and wardrobes.
Bella is the first thing the children look for in the morning, and she is the last kiss goodnight. She makes them whole; she is family.
PUPPY LOVE
Studies show owning a dog can lower stress, blood pressure and depression and help cure loneliness. Research has proven people actually feel better when they are around a dog. Maybe that's why people recover from a stressful situation faster when there's a dog around.
Dogs make us happy, and they help us feel connected to others.
And Roger Caras just may have said it best: "Dogs are not our whole life, but they make our lives whole."
Cathy C. Bennett is a micro-pet influencer and the creator of Groovy Goldendoodles™ a pet blog and website centered around her two goldendoodles – Harley and Jaxson. Cathy writes about everyday life with two very active doodles. Learn more about this incredible hybrid breed, dog health and nutrition, training and grooming tips, pet therapy, homemade treats and so much more at www.groovygoldendoodles.com.