Walking into Realtor Ann Whalen's office, I'm greeted by Nimitz – a 4-and-a-half-year-old English cream golden retriever with the kind of chocolate-brown eyes that make you melt like a popsicle left on a Lowcountry dock. He doesn't bark, dart toward me or jump to make my acquaintance but rather saunters over to the door and gazes out the window to calmly take in the sight of geese congregating by a nearby pond. I can tell by his demeanor he's enjoying the view. While other dogs may have let out a howl and doused the door with drool in an attempt to make their way out to the feathered flock, he sits and stares – perhaps daydreaming of long rides in the family golf cart.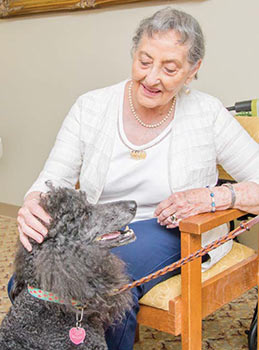 "He didn't pass puppy training," recalled Whalen, his owner. "If the pack went left, he went right."
Despite his rebel spirit – apparent from birth – Nimitz has transformed into one of the top therapy dogs in the region. On one occasion, he didn't even flinch when faced with the weight of a walker on top of his tender tail.
"You just have a purpose when you have a dog," said Whalen. "Nimitz is so loving. Keeping up with his schedule and working can be a lot. Some days, he seems to be busier than me."
Whether he's visiting folks at the senior center or leaving neighbors in a state of glee, Nimitz's very presence seems to off er a sense of relief and tranquility. This therapy dog even provides camaraderie for a cat, Meezer, that shares his Awendaw home.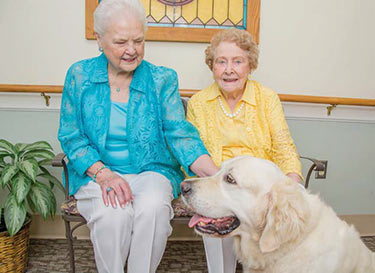 This summer, Nimitz will have the opportunity to play alongside some truly exceptional kids at Camp Rise Above – a program held at James Island County Park for those dealing with everything from brain tumors to sickle cell anemia. The camp is broken down into seven sessions of two full days, each catering to a different group of campers with a specific condition. Participants will stretch their creativity with arts and crafts and build strength in the water with paddle boarding sessions. They will also get the opportunity to meet amazing canines like the endearing Nimitz.
"We are very excited about this opportunity," said Whalen, who spent years working with children at a similar sleep-away camp in North Carolina. "We hope to one day get him into a program at MUSC Children's Hospital."
He already visits hospice every week and brings a bit of cheer to patients and family members during the most stressful times of their lives.
"He goes to each room and rests his head on the patient's bed," said Whalen.
Recently, while visiting with an Alzheimer's patient, Nimitz's presence jolted his memory. A veteran, the man became lucid, carried on conversations and even commented on the fact that Nimitz's namesake was an esteemed fleet admiral who fought in WW II.
"When I put his therapy collar on, he is a totally different dog," said Whalen, who brings Nimitz to a refresher course at Alpha Dog Training every six months. "He knows it's time to go to work."
While therapy dogs bring joy to those struggling with grief, illness or emotional upset, they also are helping kids increase their own literary confidence. We all remember the early days of childhood where sounding out words and reading aloud to a group of our peers could possibly bring on anxiety. What if your reading partner had a shiny coat and a nonjudgmental stance? Therapy dogs make monthly appearances at libraries, such as Mount Pleasant Regional and Edgar Allen Poe on Sullivan's Island, to participate in reading programs designed to help children excel.
"Dogs don't criticize or laugh when one makes a mistake," said Cynthia King, president of Southeastern Therapy Animal Resources. "Also, there are children who come who are afraid of dogs. It is fun to watch a shy child want to come up to pet our dogs."
King is the proud owner of two standard poodles, Pete and Holly, that accompany her to hospitals, assisted living facilities and schools all across the Lowcountry.
"As a founding member of STAR, I've watched it grow from seven people sitting on a porch, deciding to start a therapy group, to around 80 members," said King. "Just knowing how many teams we are helping in the community is satisfying."
Think your pooch has what it takes to bring smiles to faces throughout the area? King encourages community members to reach out and get involved.
"There is no one breed or size of dog that makes a good therapy dog," said King. "All that is needed is a trained dog – one that enjoys being petted."
From Great Danes to basset hounds, the number of shapes a therapy dog can take is about as varied as the people and ailments they can help.
By Kalene McCort