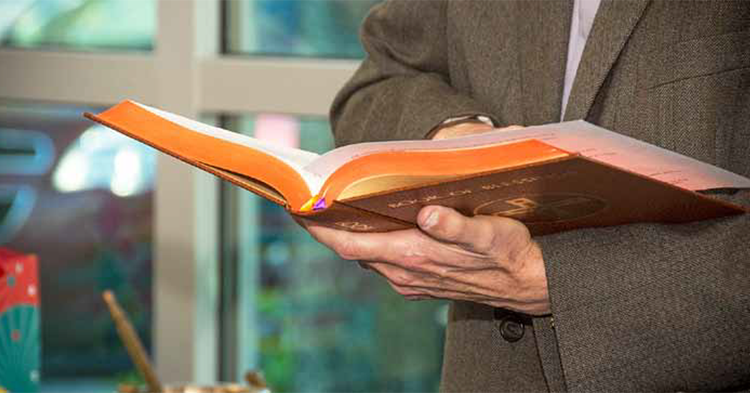 Even if you're not a religious person, you're probably familiar with the iconic image of St. Francis, often found gracing gardens or natural areas as a statue of a robed man with birds, deer or other animals flocking to him. St. Francis of Assisi, the patron saint of animals and ecology, has won the hearts of many, both inside and outside of the Catholic faith, and is a symbol of caring and compassion for all animals.
Francis, born in the 1100s, did not always lead a saintly lifestyle. He was born into wealth, and, even as a teenager, was known as a vain, rebellious partier and drinker. An aspiring knight with no combat experience, he fought on the losing side of a bitter war between Assisi and Perugia and was one of a few spared death, instead spending nearly a year imprisoned underground awaiting ransom money from his family. While a prisoner, he began having visions from God, and, upon his release in his early 20s, he returned a changed man. He followed God's instructions, devoted himself to Christianity and moved to a radical life of extreme poverty at a time when the church and many of its leaders were wealthy.
He developed quite a following and was skilled in delivering sermons that appealed to commoners and even preached to animals. He viewed them as brothers and sisters, equal to humans, and he considered both humans and animals to be God's creatures. He was known to pray often with flocks of birds or other animals along the roadsides, and even preached to a wolf who had been terrorizing a village, killing people and other animals, and who afterward lived peacefully in the village with the promise that the villagers would feed him regularly.
Today, St. Francis is remembered for the miracles God performed through him for the poor, the sick and animals.
The Feast of St. Francis of Assisi is celebrated each Oct. 4 by Catholics and people of varying religious backgrounds with a Blessing of the Animals. In Mount Pleasant, creatures great and small are brought to churches for the ceremonies, which impart God's power of health, healing and life for the benefit of each animal.
The Blessing of the Animals reaches beyond the doors of each church and inspires many nonmembers to join in the ritual – animal lovers, pet owners, rescues, business owners and families look forward to the opportunity to support our furred, feathered and scaly friends.
Carol Linville, president and founder of Pet Helpers, participates in several Blessings of the Animals each year, both at a church and through shelter events.
"Yes, I believe in St. Francis," Linville smiled. "And St. Anthony – the patron saint of missing things – because I pray for so many animals to find their way home, and St. Jude, the patron saint of miracles, because these animals need miracles. I'm not even Catholic; I just love the saints. They are listening."
In January, eighth graders Matthew Mutter and Simms Hoyt, students at Christ Our King, arranged a special Blessing of the Animals for a service project at Pet Helpers. Before the ceremony, the two worked for hours knotting flannel for blankets and making homemade toys for the adoption bags they gave to Pet Helpers. They also made and distributed little cards to all the homerooms at school, asking each student from kindergarten through fifth grade to write their name on the card and say the prayer for the animals' adoptions. They gave the basket – holding more than 600 prayer cards – to Pet Helpers as well.
The boys were particularly drawn to Pet Helpers because it is a no-kill shelter, which aligns with the Church's belief in the sanctity of life. In a small, short ceremony with a handful of students and families, Pet Helpers' staff and a few members of the media, Christ Our King's Deacon Bob Boackle read from the Order for the Blessing of Animals. He blessed the participants before walking through the shelter, sprinkling holy water with an aspergillum throughout the kennels and animal areas before stepping outside and making a final sign of the cross to conclude the ceremony.
"I wanted to do something with animals and for them that would show how much I appreciate all that they do for us," said Hoyt. "They make us better people. I hope this blessing helps all the animals find a home with love."
By Anne Toole