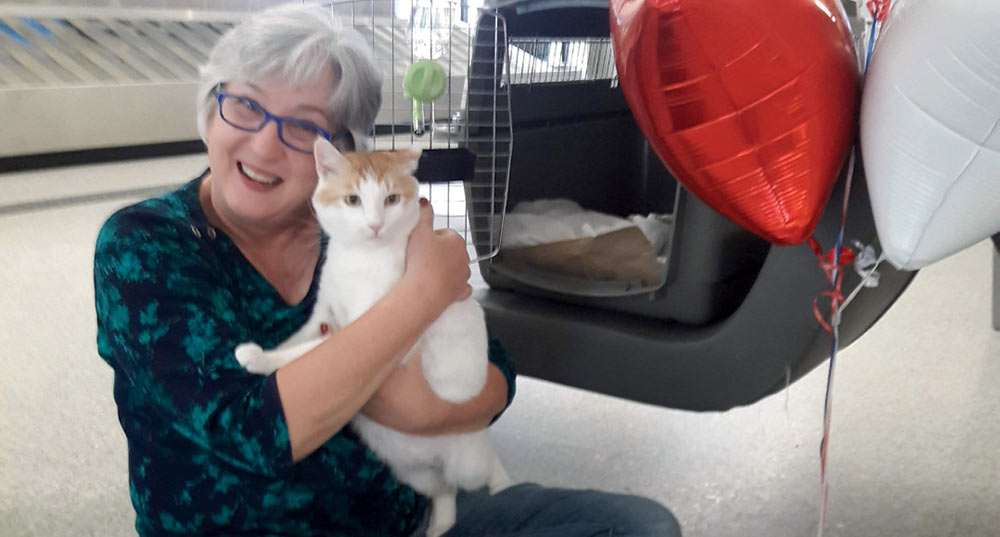 This is a story about something that happens every day but seldom makes the headlines. It is a story of how two different animals without homes were taken in by Lowcountry animal lovers and given the opportunity to live out their days with love, comfort and care.
One of these animals is Neville the cat, who began his life half a world away in Okinawa, Japan. A former stray, Neville seemed doomed to a brief and sickly life, until an animal lover took him in and had him examined by a veterinarian.
Neville was diagnosed with FIV+, or feline immunodeficiency virus. The veterinarian concluded that his only chance for a long pain-free life was to be treated in the United States.
As things happen in stories with happy endings, the scrawny tomcat's rescuer in Japan was already acquainted with a potential American foster mom: Mary Beth Dew, who lives in the Ivy Hall subdivision of Mount Pleasant.
Dew was certainly no stranger to saving the lives of cats and kittens. She had already fostered around 100 of them for the Charleston Animal Society and Pet Helpers, including another with a case of FIV+. Arrangements were made to transport Neville to Mount Pleasant, and they weren't simple. His journey spanned 30 hours and involved four different flights.
When he finally arrived, Dew took Neville to her own veterinarian and had him checked out. In his new home, Neville rapidly put on weight — so much so that he had to be placed on a prescription diet. Astonishingly, he even registered a negative test for his FIV+. At this point, Dew would normally reach out to find a "forever home" for her foster feline. But there was just something special about this cat. This one, she couldn't let go.
So Dew adopted Neville the cat, and he quickly adapted to American life. He has served as a "big brother" to more than two dozen foster cats and kittens and remains "pals" with them after they leave Dew's care. He goes on play dates, takes walks in what Dew calls his red convertible stroller, talks to her incessantly, sleeps in her bed, climbs out on tree limbs and loves meeting new people. Currently four years of age, he'll no doubt live many more years in comfort, bringing joy to Dew and everyone else who meets him.
Part two of this story is more personal. A little more than 10 years ago, my wife Judy and I made the big decision to become dog owners, something we'd never done together.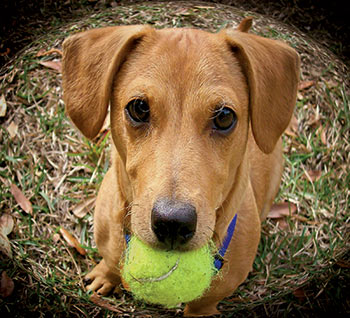 It made no sense to buy a fancy breed from a pet shop when so many dogs need homes, so we went to the Charleston Animal Society's North Charleston shelter. We agreed that we wanted a big dog, something tough, sturdy and maybe just a little menacing – like a German shepherd or a Rottweiler.
But while there were scores of big, healthy dogs at the shelter, none of those macho mutts made that special connection with us. On our way to the car, dejected, we peered through the chain-link fence into the outdoor exercise area. There stood a man in a business suit, with a brown splotch of color on his shoulders. It was a dog, vigorously — maybe maniacally — licking the man's ears, neck and face, while a tail wagged like an out-of-control metronome.
Out of curiosity, we went back inside, where we discovered that the man behind the fence was Joe Elmore, Charleston Animal Society's CEO. The little dog, whom they'd named "Armando," was a three-month-old who'd been found with several of his littermates in a cardboard box by the road in West Ashley.
All that night, we talked about "Armando." Sure, he was cute, but he was little — a dachshund and Jack Russell mix, as far as the shelter staff could tell. We wanted a BIG dog.
But by the morning, it was all over. We had to adopt him. Charleston Animal Society confirmed that he would be available, but not that day. That afternoon, he was scheduled to star in a fashion show at Towne Centre in Mount Pleasant.
The next day, we took the little guy home to Charleston National and renamed him "Pal," partly because my childhood dog was "Buddy," and we wanted something similar, yet different, and partly as homage to the late, great Jackie Gleason's signature greeting, "Hiya, Pal!"
Pal turns 11 this year, and he's as lively and loving as he was that first day at the shelter. He's had his share of health concerns, among them pancreatitis and Addison's disease. But great veterinary care and his daily schedule of medications have kept him active and well.
Pal won't ever win any breed awards because there's no category he fits into. But when he sleeps in our bed, proudly wears a bright bandana on walks or greets his many human friends with wild excitement, we know that rescuing him was really more like rescuing our own sense of wonder and joy at just being alive.
By Bill Farley